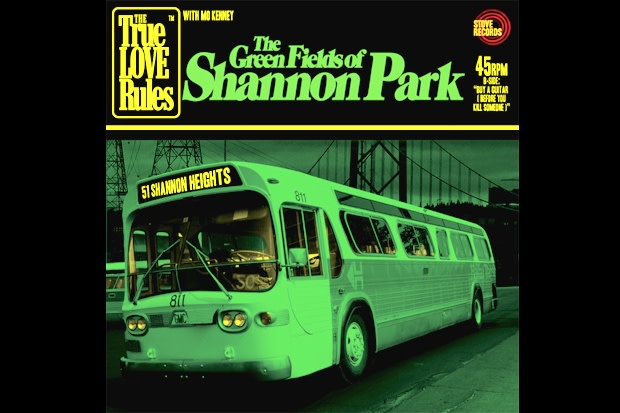 Pre-Order your vinyl 45 of The Green Fields of Shannon Park, by The True Love Rules with Mo Kenney.
Welcome! The True Love Rules are releasing their first ever vinyl 45, The Green Fields of Shannon Park, in celebration of the military housing community, Shannon Park (1951-2003) and we need YOU to help us make it happen.
Pre order The Green Fields of Shannon Park with b-side, Buy A Guitar (Before You Kill Someone), and receive a sweet 7 inch 45 rpm record (signed if you wish) with full colour sleeve and Stove Records label artwork, plus a digital download card! There are options with CD's, T shirts and House concerts too! Imagine that bunch in your house, you'd need more than Molly Maid the next day.
Recorded in Dartmouth, Nova Scotia at New Scotland Yard and Echo Chamber studios, Halifax.
The songs feature guest musicians with an All Dartmouth team of Mike Farrington (The Mellotones), Clive MacNutt (Erin Costello), Steve Rolston (Rolly and the Navy Brats), Joel Plaskett (Joel Plaskett Emergency), Dave Marsh and the fabulous Mo Kenney! The songs are recorded, mastered and ready to go. All of your generous support goes to the manufacturing costs of this instant collectors item.
We need $2300 CDN, to cover the costs of the vinyl manufacturing. The recording costs, engeneering and musicians fees, expert mastering and artwork are complete but now we need your support. The reality of vinyl manufacturing is it requires a steep set up cost, so whether it's a single or full album the initial costs are pretty much the same.The single will be ready mid April regardless of whether the target goal has been met. Pre-order, and rest easy that a record has your name and address on it. Help make it happen!
Here are the options to support; the 45 single with digital download card; an option for the single with download card and our latest CD The Cause of Many Troubles!
We'll also be offering a couple of other options for you to show your awesome support, they will include the 45 with extras like, CD bonus, custom made t-shirts, house concert, joining us onstage or a personal skype performance of one of the songs!
And don't forget to share! Indigogo has cool share tools to use. Many thanks.
Find This Campaign On